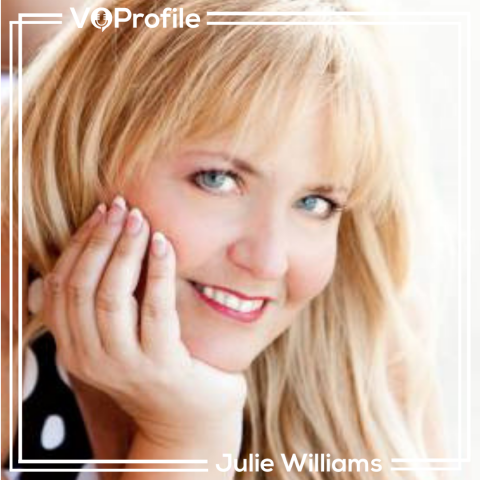 Professional Voice Actor and Voice Over Coach Julie Williams
Julie Williams is a nationally known professional voice actor with four decades of professional voice over experience. From showing travelers how to change their tickets at Orbitz.com to instructing employees how to make the perfect Pizza Hut pizza, Julie has built an impressive career. She has voiced commercials for Coca-Cola, Pampers, Disney World, Dillard's and more. She is an Audi finalist for audiobook narration and has voiced hundreds of eLearning courses, including a Bar Exam study course. Julie is a formidable voice over life coach and a panelist at some of the biggest voice over conferences in the world.
VOPlanet chatted with Julie about her voice over career and when a voice talent should make the leap to working as a full-time professional voice actor. She explains who can benefit from coaching and shares useful tips for choosing a voice over coach. And she offers valuable advice for up-and-coming voice talent.
What did you do before you started in voice over and how did you discover voice overs?
I never knew that VO what a "thing!" It's weird, though, when I was about four years old, a looooong time ago, I had this little TV screen record player. We'd push the film strip slide through the screen moving it every time we heard a ding as the Disney storyteller told us the story. I remember that I wanted to be the Disney storyteller! But I forgot that over the years and it didn't occur to me that VO was a career.
Once I got into radio, which I was still in high school, I realized that people were getting paid to do what I loved most – voicing commercials – on a freelance basis. So, I put myself out there. And I started getting work. I was working on the radio in Houston when I was 20 and Beau Weaver encouraged me to get my first agent, he helped me put together my first official demo, and I started booking work immediately.
What was your first home studio like?
Don't flush! My first home studio was awesome1 A 10 X 11 room with Auralex on all the walls and a custom-designed window plug. Before then I just used radio station studios for my VO work. Of course, it was in my home, so if I was recording, no one could use the pluming! But we all deal with that kind of stuff!
Do you have a genre of voice over you enjoy most? Why?

 
I'm a life-long learner. Always reading and studying stuff like marketing, management and alternative health and wellness. So, I'm a natural for eLearning and medical narrations. No matter how "dry" the material is, I learn through eLearning, so I love it. And I love making dead copy come alive! I enjoy medical narration because I love the challenge of it. It's so much more than just pronouncing unfamiliar terminology!
Can a radio announcer become a successful professional voice actor?
Yes … IF... they are willing to accept that radio and VO are different industries and that they do not already know it all. Unfortunately, most radio people feel that the right kind of read feels wrong (it will to them) and they refuse to accept that they're not doing it right. They need what Beau Weaver calls "Beginner's Mind."  Realize that while you did develop some valuable skills through radio--you are STILL a beginner!
And don't make a "production room" demo. We can tell. Clients and agents can tell.   
How does a voice talent know when it's time to make the leap to doing voice over full-time?

 
When I had two full-time incomes and two full-time jobs, which I maintained for more than 10 years, I knew that I had to choose. You can only keep burning the candle at both ends for so long.  What I advise people to do is wait till they are consistently making enough to live on, then work 3 more months, banking ALL of their "day job" income into a rainy-day fund. Then, hit the ground running! 
There's constant chatter in the voice over community about announcer voices. How do you combat the cliché announcer voice and manage a career in radio and professional voice overs?
A voice talent can be a communicator on the radio as well as in VO. It will make them more current in their radio sound and make them marketable in VO. The opposite is not true.    
Why should someone hire a voice over coach? Can a voice coach benefit even a seasoned voice actor?
Someone should hire a VO coach whose career is what they want their career to be. Find out what you can expect from a coach. I am a Voiceover Life Coach. My team and I guide them in every single area of their VO life.  If they want to refine their craft... or not reinvent the wheel, even if they're a beginner... they need guidance.  With a good coach they'll get a fresh pair of ears and the benefit of that coach's experience.
We all learn from each other.  I have coached Los Angeles and NYC successful Union talents to the next level. They can benefit from my 40+ years of experience. In fact, I can benefit from the experiences of a great coach with 25 years LESS experience than I have, because their experiences have been different from mine. I believe we should never stop learning or improving our craft.  And when you go to a good coach--it shows!  That said, the person who should never pay a coach is the one who thinks he or she already knows it all.
How do you choose a voice over coach? What are things to consider when looking to hire a voice coach?

 
Ask questions:

Can you give me a dozen or so references?

Are you still working in voice overs full time?

Which coaches will recommend you to me?

May I hear samples of about a dozen or so demos you've produced for your students?

 

Find out what the coach specializes in. If their full time job is not in VO - run.

Listen to their work. Do you like their demos?

Find out... do they provide the scripts? What do they charge? Is there a penalty if you have to cancel - even at the last minute? (I never charge a penalty!)

How long have they been teaching?

Is there a sample video of them coaching that you can watch so you can see their style?
The best coaches are INDIVIDUALS... not companies! I've heard it said, "When you pay peanuts you get monkeys!"  And that's true with a lot of VO training "companies."
What red flags should voice actors be aware of when hiring a voice coach?
Make sure they're not demo mills that have everyone ready for demos after X number of sessions. I've had one student (the only one ever) ready after three sessions. And a few not ready until after more than 20! No one can predict how long it'll take you.
Run if they promise you the moon and that you'll get rich, and that they'll find you work when they're done. 
If you have any questions, you can email me.  I can't name the bad or predatory coaches, but I can find out what your goals are and suggest some that I KNOW are good--and operate with integrity.
You say that you're not just a voice teacher, you're a voice coach. What's the difference?
I'm here for them even when it's not during our "time."  I answer emails (believe it or not, some coaches charge for this!) and guide them in everything from branding to technique, to marketing, etc.  Teachers just teach their class and leave. Coaches are the whole package.
You're a prestigious voice over coach who also works with up-and-coming voice talent. What advice would you give to someone just starting out in voice overs?
Don't get the cart before the horse.  Don't make decisions on your own and don't take advice from Facebook forums. I've seen people give advice who have never even done a paid VO job!
Get a GOOD coach who will work on your technique, and produce your demo(s), and offer guidance along the way about how to get your studio together, market yourself, brand yourself, etc.
If you do this, you will be making an INVESTMENT. If you try to do it all on your own and reinvent the wheel ...it's an EXPENSE. There are enough expenses in this life! It's investments that pay dividends in your career.
You can hire Julie Williams for professional voice over work and hear her demos on VOPlanet.com. You can also contact her for voice over coaching through her website.
You may also enjoy: VOProfile: Q&A With Professional Voice Actor Maria Pendolino
VOPlanet offers free voice over casting to professional voice actors. Cast a voice over now and get auditions from professional voice talent. No hidden fees, no commission, no credit card required.