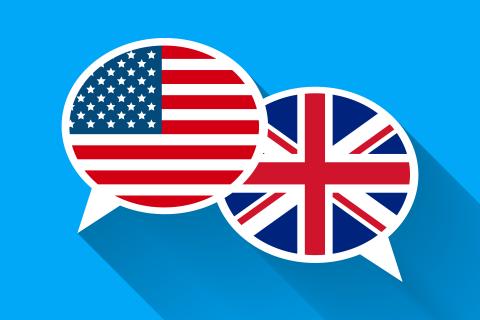 Transatlantic Voice Overs
The internet has made the world seem like a smaller place. Through social networking, travel and trade we have become a global community. We are increasingly sharing our way of life, our food, our music and even the way we speak.
Approximately 1.5 billion people in the world speak English. However, only a small portion of those are native English speakers. This means that as businesses and brands stretch across continents, there's a growing need for Neutral English voice overs for commercials, eLearning and corporate narrations. The demand for a neutral international sound has popularized a voice over accent that is not quite American, British or European. Transatlantic voice overs, also known as Mid-Atlantic English, International English or Neutral English, are in demand and voice actors who have mastered the accent are being cast with increasing frequency. Voice buyers and voice actors alike are sometimes unsure of what exactly Neutral English is.
To get a firm idea of exactly what Transatlantic, or Neutral English, is we went to the experts. We asked two of the top voice actors who book Transatlantic voice over work what the accent is, how it's being used and what exactly it sounds like.
Juliette Gray is a British voice actor who relocated to the US more than twenty years ago. We also spoke with the prestigious J. Michael Collins, renowned demo producer extraordinaire and an America living abroad. Collins and Gray frequently book voice over work in the Transatlantic or Neutral English accent.
What is a Transatlantic or Neutral English Accent?
When most people think of a Transatlantic accent, they hear the accent that was made popular by old Hollywood. When Ingrid Bergman says, "Play it Sam. Play 'As Time Goes By'," she's speaking with what became known as the Mid-Atlantic accent. Actors in the early 1900s were taught by acting and preparatory schools to speak with a slightly British accent to sound more worldly and cultured. They meshed together the accents between Britain and America and gave rise to a unique blended accent. Over the years the accent has evolved far from the stereotypical movie accent to become a respected and highly sought-after global voice over style that can be difficult to nail down.
"It's an accent that is very hard to define regionally. You can't necessarily say it's American. You can't necessarily say it's British," says Collins. "It's meant to be indefinable."
Gray says, "I have also heard the expression geographically agnostic. Which can also include bilingual people from other countries say Holland, Scandinavia, France, who have that je ne sais quoi accent in English." 
How is the Transatlantic Accent Being Used in Voice Overs?
Many voice overs require a specific localized or regional dialect. A regional car dealership may leverage its authenticity on a very specific local references and dialects. However, many brands and businesses are targeting audiences far beyond their geographic headquarters. International companies are increasingly hiring professional Transatlantic voice actors to give their brand a global sound.
"When we talk about what makes this genre valuable to the client, using the accent also adds precise diction and a little global mystique for their brand," says Gray.
"The specs often say they are looking for a voice where it's hard to tell where the person is from," Gray says. "A lot of global international luxury brands don't want to be pigeonholed. Companies such as international banking or international narration projects for, say, the UN, World Bank, EU or UNICEF. Also, travel companies, cruise lines, hotels, tour companies, museums and luxury products."
Neutral English is perfect for global companies as it is universally easy to understand, even by non-native English speakers.
"The accent is also beneficial to people whose first language is not English, when the American accent or the British accent sound difficult to comprehend," explains Gray. "The Transatlantic accent is neutral territory. A compromise that emphasizes the best of both."
 
How Does A Transatlantic or Neutral English Voice Over Sound?
So, how does an undefinable accent sound? J. Michael Collins shares an explanation and a Transatlantic accent example.
Transatlantic Voice Over Work
The Transatlantic accent is a blend of languages, making it truly unique. It is not a true regional dialect, which means it can be learned and mastered by voice actors around the world. "You don't have to be British to speak with a Transatlantic accent. A North American talent could make the same switch," says Gray. "Often the accent is described as someone who has moved around the world and has picked up certain speaking characteristics in addition to their mother tongue. In my case, I seem to slip easily between British and Transatlantic and can focus on one or the other depending on the needs of the client."
Learning this unique accent can be a smart move for voice actors looking to book voice over work internationally. As technology connects more and more people around the world, brands are looking for a way to easily reach broader audiences with a touch of class.
The need for neutral voices is growing as more brands expand globally. Many voice actors are adding the Transatlantic accent to their resume as demand rises. We hope taking a closer look at the Transatlantic or Neutral English voice over accent helps you better understand the genre and helps you add more global voice over clients to your business.
If you're interested in casting a professional Transatlantic or Neutral English voice actor for your next project, cast your voice over for free on VOPlanet.com. It's completely free to cast and hire professional voice over talent.