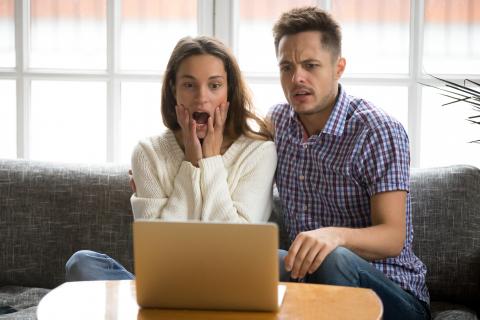 A Guide To Better Voice Over Audition Proposals
So a great voice over job is posted on VOPlanet.com. You record a killer audition. You upload the voice over file, and now it's time to fill out the note to the voice buyer. If you draw a blank when filling out voice over proposals on P2P, you are far from alone. Let's get you on the path to glorious client comments and conquer the comments box.
I get emails and messages from voice over talent almost daily asking what they should write in the comments box on their audition proposals. I have cast thousands of voice over jobs and I have seen a lot of crazy looking audition proposals over the years. I have also seen a lot of great ones. I'm going to break down what makes an effective client proposal and a few common mistakes that you should avoid.
Many voice actors have incredible voice over skills but have no idea what to say in a business proposal. Voice over talent that audition for jobs online are often asked to make a few comments to the voice buyer in their proposal. We touched on writing an audition proposal briefly when discussing what voice actors should know about P2P sites.
TMI: Too Much Information
Most professional voice actors have a standard paragraph they copy and paste to the comments box that you find on most auditioning forms. A common voice over proposal goes something like:
"Hello! I am Jane Voice. I work from my home studio using a Mega X46 Microphone with Sweetmix preamps and Technix cables connected to my state of the art digital Wonderbox. I have voiced for Coca-Cola, Ford, Apple, Kleenex, IBM and Bill Gates's personal answering machine. I started my career at age two with the Windwhistle Theater Group and was the voice of K-LMP in 1996. From there I attended the Big Name VO school and blah, blah blah, etc…"
Voice over talent want the voice buyer to know about their gear, amazing clients and work history. While these are all great things to include in your voice over job proposal, you should keep in mind that the voice buyer has seen thousands of these proposals. I do not read through the voice over gear and client lists. I have listened to your audition and can tell if you have an acceptable studio. Most professional voice actors have a list of big companies they have done voice work for. What I focus on is: do you meet the specs of the job I am casting. The clients that come to me for casting have very specific needs. I include those needs in the details of my job posts. If the job calls for a 20-something male voice over talent with ISDN, I need you to confirm that in your proposal. If the client is asking to direct the session, I need to verify that you are comfortable with being directed. If there is a directed session, I need to know that you are available on the day and time the session is scheduled.
Short and Sweet
With all of that in mind, your proposal should read something like:
"Hello! I am a twenty-five-year-old professional voice actor. I have ISDN and can record on the date of your session. I am easy to direct and clients love my great attitude. Listen to my demos and check out my awesome studio plus client reviews at joesvoiceoverwebsite.vo. Or email me at joe@joesvoiceoverwebsite.vo if you have any questions."
This proposal touches all of the bases and rounds third to home. I know the voice over talent is an actual twenty something. I know he has the gear my client requires for the job. I know he is good with direction and can be trusted to follow protocol with my client in the session. And I know the talent can record on the date required. I can quickly pop over and see the voice talent's website and get an idea of the level they are working at. I can check their profile or their website to listen to their demo reels. And maybe even take a look at the talent's list of sweet, sweet VO gear. The final plus is I also have direct contact information. Most voice over casting sites do not display your contact information, making it difficult to work directly with voice actors. At VOPlanet, we feel that including your personal contact information is vital. Unlike other voice over casting sites, VOPlanet gives the option to include an email address, phone number and website address on your profile. Additionally, the VOPlanet messaging system sends voice buyer messages directly to your email address, so you're free to work outside of our platform with no site management filtering messages. This also provides you with the voice buyer's direct email address and ensures your message is communicated without delays.
Great Gear is a Given
The strongest voice over audition proposal speaks to the specifics of the job you are hoping to fill. You must be qualified for that specific job. Everyone has a list of awesome gear and clients, but few can meet the exact requirements for any given job.
So, read the audition notes. Answer the questions the voice buyer is asking. Meet the needs. Keep it brief. Send them to your personal site to learn more about you. Include your direct phone number or email address. Let them know you are nice! Voice buyers like knowing you are going to be easy to work with and it's ok to say so. You can even make a copy of your proposal and keep it on a Word document. You can copy and paste your proposals and customize them to fit specific jobs. Then copy the next proposal. Soon you will have a page of proposals that fit just about every kind of voice over job.
Fit the Specifics and Get the Gig
The bottom line is most voice buyers assume you have great gear and clients, so you do not need to include that in your proposal. What clients need to know is how well you fit the specifics of the voice over job they are currently casting. Sending a quick, friendly message that says you have the specific gear, qualities and availability needed for the job will help you win more voice over jobs. Make sure you include direct contact information so you can be reached easily and quickly. VOPlanet strives to help our members establish direct relationships with clients. A strong, informative proposal letter is a great way to establish new clients and help them get to know more about you and your brand.
VOPlanet.com offers free voice casting to professional voice actors. Post jobs for free and work direct with professional voice talent.
Comments
Kevin, you told me some years ago NOT to talk about my age or how long I'd been in the biz. You said it might put-off some clients who would've otherwise hired me UNTIL they found out how OLD I was. hahaha
That's been good advice for me and has worked in my favor many times. So thanks! Thom Varhol
P.S. I'm adjusting how I construct my audition proposal right now.