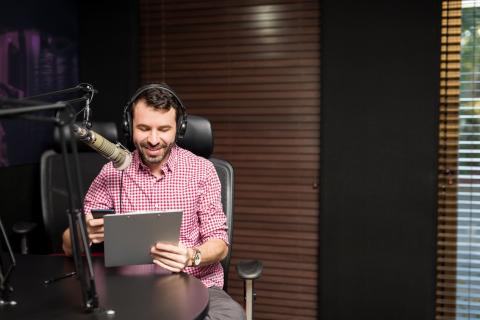 We continue our discussion on hiring voice actors with a look at the different online voice over casting options. We will discuss P2P sites, freelance sites and more over the next few installments. First, let's start with those top of the page sites and individual voice actor sites.
Top-of-Page Voice Over Sites

Top of page sites are the Google ads you see at the top of search results when you search voice over. The ads typically promise "fast delivery" or "$39 voiceovers." And they deliver what they advertise: fast, cheap voice overs. These sites make money on volume. This is not where creatives go to make art or where most professional voice actors are willing to work. Think about it. A voice actor is splitting 39 bucks with the site owner to voice your ad. How many spots a day does the talent have to crank out to make a living? All of those sites keep a portion of the voice over fee as a commission. Is a portion of 39 dollars a fair fee for the actor?
You may be able to get a few good projects out of one of these sites, but these bargain basement sites' rosters are limited because of the low fees. You will burn through the good voices on those sites quickly. And often, there are fees added on to the initial cost, so you end up paying much more in management fees than the price in the ad. If the quality of your project is important, you should probably pay more than dirt cheap wages. You will get better voice over talent and you can avoid websites that pay unfair fees to their voice talent.
Professional Voice Actor Websites

Every professional voice actor has a website where they do business. You generally will see a photo of the voice actor along with samples of their voice over work. Usually the look of the voice actor's website reflects the type of voice work they specialize in and a bit of their personality. Obviously, the first thing to do is listen to the demos the actor has on his or her site. Does the voice have the sound you are looking for? If the answer is yes, you are done, right? Wrong. A great voice over demo does not mean the voice actor is the one for you.
Things To Consider When Hiring Voice Actors Direct
There are questions you should ask before choosing a professional voice actor for your job. Price is an important consideration. Does the voice actor fit your budget? Are they able to record within your time frame? Is this person reliable? There's nothing worse than having a voice actor show up late for a session or not be available if you need revisions. How does the voice actor's website look? Top voice over pros generally have a great looking website. A great site does not necessarily mean great talent, but it is one more indication that you are working with a true professional. If, after all these checks, you are satisfied with a voice actor, you can usually contact them directly via the usual contact form, phone call or email. You may have to contact the voice actor through an agent. We will discuss agents in an upcoming article.
Once you have contacted the actor, have them do a test read for you. The difference between a voice actor's recorded demo and what the actor sounds like in real life can be huge. There are many voice actors that have awesome demos, but do not have either the talent nor the studio to sound like their demo consistently. This is one of the purposes of auditioning. You want an audition to hear how a voice actor sounds voicing your script. You can also test the actor's studio quality. If the recordings do not meet standards, move on.
Also take note of how they interact with you. See how well they follow not only direction when voicing, but instruction on session times, slating and labeling your voice files. Sloppy work on the technical and clerical side of the job can cost you time and clients or may indicate the actor is not organized. Organization is important because keeping script names, job codes, invoicing and session dates straight is essential in the voice over business. It is indeed the business part of the job.
Voice actors personal sites are a great way to hire if you have time to go through them individually and you are comfortable negotiating rates, doing test auditions and you have time to do some serious vetting.

In the next segment we will discuss freelancer sites like the polarizing Fiverr. Can you really book voice overs for five bucks? Should you? We'll also talk about voice over agent and agency sites, the costs involved and the agency booking process.
If you need a professional voice actor, let us know. Casting voice overs projects is free here at VOPlanet.com. All of our actors are vetted professionals with broadcast quality studios. You can trust VOPlanet.com. Go ahead! Post a casting call here.