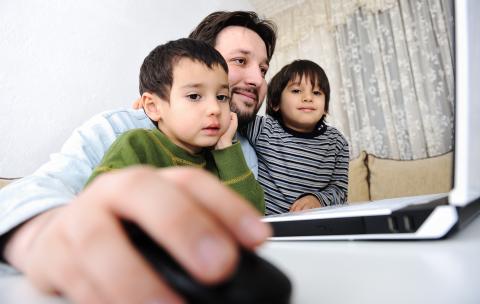 Fifteen years ago, my girlfriend and I quit our radio jobs and started working from home doing voice overs. After years of working in offices, working from home felt like playing hooky at first. Then the realities of being home - and together - all the time began to sink in. Sure, you can make your own schedule and work in your pajamas. But being home full time has its challenges.
Fast forward fifteen years and that girlfriend is now my wife, and we have three boys ages nine, four and two. We are still working from home running a voice over casting platform and we homeschool our three boys. (Eek!) We are home together full-time. All of us. Plus, two dogs. How does that work? How do we cope?
We have been talking a lot lately about how unusually prepared we are to face the Coronavirus and the possibility of having to stay home. We already do. The conversation turned to how others will cope with finding themselves stuck at home, working and taking care of children for possibly weeks on end. We have learned a lot about working remotely over the years and would like to share any wisdom we may have to offer to those poor souls that are finding themselves in this situation unexpectedly.
 You Are OK!
The first thing you should know is: you've got this. If you are anxious about how it is all going to work, that's OK. You will settle into a groove and it might just turn out to be a good experience for you, other than the health concerns. There are a few things you can do to make the transition easier and I will go over a few key points to help you get through these very unusual times.
Set Up Shop
First, if working from home, set up a designated work area. If you have a home office already, awesome. If not, pick out a room or a quiet out-of-the-way corner of the house and set up a workstation, especially if you are home with the kids. Having a place away from the noise of everyday life will boost your concentration. It also gives you a sense of purpose.
I tell my little boys I am "going to work" as I head to my office every morning. They know I will be busy for a while and usually there will be at least a few minutes before one of them comes in to play with Daddy. If you would like to work with no interruptions, good luck! But you can try hanging a stop sign or a cardboard traffic signal on your office door. Red light means do not enter. Green means come on in.
Clock In
While it is tempting to sleep in or putter about the house all morning because hey, you can. It is better to set a schedule. I "go in" at 8 am daily. I take breaks at designated times for a snack or play time with the boys. This way the kids know Daddy is coming up at ten and they are less likely to interrupt my work.
Set Break Times
Setting a schedule for snacks is also helpful as being near your fridge all day is very tempting. Also be aware that the kids are going to plow through all the food if you let them. They will get bored and turn to food to break up the monotony. They will devour all the delicious snacks you've been hoarding and interrupt you endlessly so you can retrieve goodies for them. Do not let this happen to you. Set up a schedule for snacking. During off times simply say the kitchen is closed.
Social Media and the Internet
Facebook, etc are great for networking, but just like at the office they are a waste of your workday after a bit. Limit your time leisurely surfing the web and focus on the job at hand.
Set Daily Goals
Have a set of jobs or work-related tasks you would like to finish by the end of each day and make sure you finish the work before the day is done. I like to knock out my "gotta do's" in the morning so I can free up my afternoon with a more fluid schedule (i.e. time to go to the beach).
Get Out!
Working from home may seem like a vacation until a few days in and you realize you are climbing the walls. Being inside all the time is unhealthy and elevates boredom and stress. Take an hour for "lunch" and go outside. Take a walk. Sit on the porch and surf the web or read. My wife and I take the kids somewhere daily so we can all get out of the house and so we can all get fresh air, sunshine and stretch our legs. A quick walk around the neighborhood does wonders and you return relaxed and ready to finish the afternoons tasks. The children settle down considerably after we "run them" and this makes for a more peaceful work and home environment to say the least.
Set Up Activities
My wife is the teacher in our family. Along with the daily lessons and assignments she gives the boys, she is great about setting up crafts and projects to keep them busy and help them learn. My two-year-old can sit happily playing with a few cans of Play-Doh for an hour. Our home is covered with construction paper creatures and letters of the alphabet that the boys make during activity time. Having a box of crayons, drawing paper, coloring books is fun for the kids and so often saves the day. This also helps us limit screen time and get a little personal space.
Make Time for You
Being together all the time means you will inevitably get on each other's nerves. It is perfectly OK and highly recommended to set aside some "me time" and just get away from everyone. I enjoy reading, so often I will find a quiet place and take fifteen minutes to be alone and read the news or a book. I am finding the news is wearing me out lately, so I have just started a 30-day free trial of Kindle Unlimited on Amazon. I love it! And having a book to read helps me not scroll through my feeds as often looking for a good article.
Closing Time
Working from home also means never getting away from work. While I often must take care of business after hours, I have a set time every day when I blow the work whistle and shut it down for the day. Working around the clock is a sure-fire way to get burn-out. Having a "closing time" helps you put the work aside and transition back to family time. Just as I go to work every morning, I "come home" from work at the same time every evening and strive to stay away from the office until the next morning.
As I am writing this, I realize that I could probably sit typing on this subject endlessly. But it is 10am now and time for my snack and another cup of coffee. My four-year-old just came in and declared a thumb war. Once the skirmish is done, I will take 15 minutes and sit on the porch and read. I hope you taking time to read this has been worth your while and that you and your family remain safe, busy and happy during these most unusual days.
VOPlanet.com offers free voice over casting to professional voice actors. The majority of our voice over team has high-quality, professional home studios and are available to voice projects during quarantine.